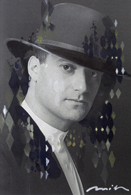 Misha Lenn is an internationally acclaimed, award-winning artist who has developed a very distinctive style of watercolor painting. The complex patterns of Klimt, the elegance and grace of Degas, the romantic verve of Renoir, technical command of Monet and the vibrant energy of Toulouse Lautrec has been his primary influences. We recognize their influence in his works as he combines elegant brush strokes with dazzling watercolor. Impressionism permeates his work.
At a very early age while studying music, Misha found that he had an inclination to draw. He made the switch and has not looked back since. Misha's musical interest still manifests itself in his jazz piano playing in his spare time, and also appears in his art in the form of musical scores collaged into his paintings an element that has become his artistic trademark.
Misha received his Masters degree from the prestigious Academy of Art and Design in St. Petersburg, Russia. Misha has had numerous solo exhibitions and his watercolor paintings can be found in private and museum collections in the United States, Russia, Germany, Canada, France, Sweden, Spain, Israel and Monaco. Misha has won numerous awards for his logo designs and watercolors.
His prestigious list of clients includes Calvin Klein, DKNY, Harvard University, Boston Symphony Orchestra, Boston Ballet, Time Magazine, Westminster Kennel Club, Godiva Chocolatier, just to name a few.
Misha is active in supporting a variety of charitable causes and often donates his works for fundraising auctions and events. In the midst of all of his successes, however, he still finds the time to teach.